iPhone is one of the most notable cell phones in the market today. It offers a wide range of cool features that make many people worldwide crave to have their unit despite its high price. Its curved screen is spectacular, and its super-fast charging speed is incredible. But what if your beloved phone gets broken?
Dealing with damaged can be inconvenient, frustrating, and expensive, depending on the iPhone model and the extent of the damage.
To get your iPhone fixed can cost you hundreds of dollars. in some cases, you are better off purchasing a new one altogether. Here is what apple says about fixing iPhone damages.
Broken screen repair is a flat rate of $29 with AppleCare+ Coverage.
Or $99 to fix other hardware damage types.
An iPhone 5 screen replacement cost is $179.00 if you don't have an apple warranty and AppleCare+ Coverage. 
iPhone screen replacement cost in Canada
The repair pricing in the chart below applies to screen damage.
If there are other damages to your phone, There may be additional charges applicable. Like to know if you are covered or not? Check your AppleCare+ Coverage by entering your iPhone serial number here.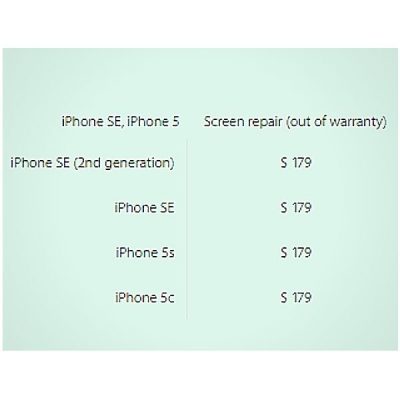 iPhone Glass Replacement Vancouver
Best Cell Phone Repair in Vancouver. Lowest Prices, along with the happiness guarantee, equals great value.
Zee Mobile offers the best iPhone screen repair prices in Vancouver's hands down. 15% discount on iPhone screen repair for a limited time if that wasn't enough! Unlike most other iPhone repair shops in Vancouver, we have the expertise to repair the most complicated repairs promptly. Usually within 1 hour.
Before Your Visit Backup Your Data To ICloud
 How to back up with iCloud
Connect your iPhone to a wifi network.

Go to Settings > [your name], tap iCloud.

Tap iCloud Backup.

Tap Back Up Now. Stay connected to wifi until the process completes.
Summary
Article Name
iPhone 5 Series Screen Replacement Cost
Description
An iPhone 5 screen replacement at an Apple repair shop is $29.00 with AppleCare coverage. $179.00 for out of warranty. The good news is at Zee Mobile. We do it for as little as $40.00 before labour and tax.
Author
Publisher Name
Publisher Logo